Company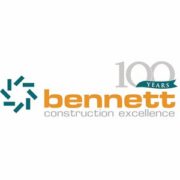 Bennett Construction
Construction Excellence
Forest Park, Mullingar, Westmeath, Republic of Ireland
Founded in 1917, Bennett Construction has steadily grown into an international construction and construction services company with clients representing every market sector. While Bennett projects range in complexity,  our success formula is constant and practical: combine the best people, the best knowledge set, the latest technology and sustainability measures, and an unwavering commitment to safety.

Bennett Construction's international reach, advanced technologies and talented pool of people ensures we continue to earn exciting projects in every market sector. The buildings we create improve the living, working, and leisure standards of people in towns and cities around the world.

We love what we do. Our work is exciting and challenging and the satisfaction we derive from developing high quality, sustainable buildings and interiors is enhanced by the teamwork and collaboration given to every project.

Each employee is important to our Company, because we rely on your dedication and professionalism in meeting our customers needs.  We hope that in doing so, you will also be able to realise your own personal goals and achieve a sense of satisfaction from a job well done.

Bennett is fully committed to ensuring equal opportunities, mutual respect, diversity and dignity at work for all our employees. This commitment is implemented and maintained to the highest standards.

Bennett welcomes diversity, valuing the benefits it brings to the workplace. The sole criteria with regards to decisions on positions and promotions is an individual's ability and merit to perform in the role. To this end, the company strives to ensure that recruitment, employment, training and promotion practices and policies are free of barriers, both systemic and deliberate, that directly or indirectly discriminate against people.

We are committed to being a company where the best people in our industry choose to work, where opportunities for life-long learning and personal development are widely available, where innovation and creativity are encouraged and valued, and where employees are supported to help them meet the challenges of their work and personal responsibilities.

Diversity and inclusion adds value to our company, our clients, our sub-contractors, our associates, our suppliers and the communities in which we live and work.